PRESS RELEASE
American Life & Liberty is organizing the
FAUQUIER "FOR THE LOVE OF COUNTRY" CONSTITUTIONAL RALLY
at CROCKETT PARK in Midland (off Meetze Road right before Rt 28) in Fauquier County on FEBRUARY 29, 2020!
Gates opening at 9am & close at 4pm. ALL ARE INVITED.
Please see our UPDATED: RALLY PAGE – SPEAKER TIMES – MAP TO CROCKETT PARK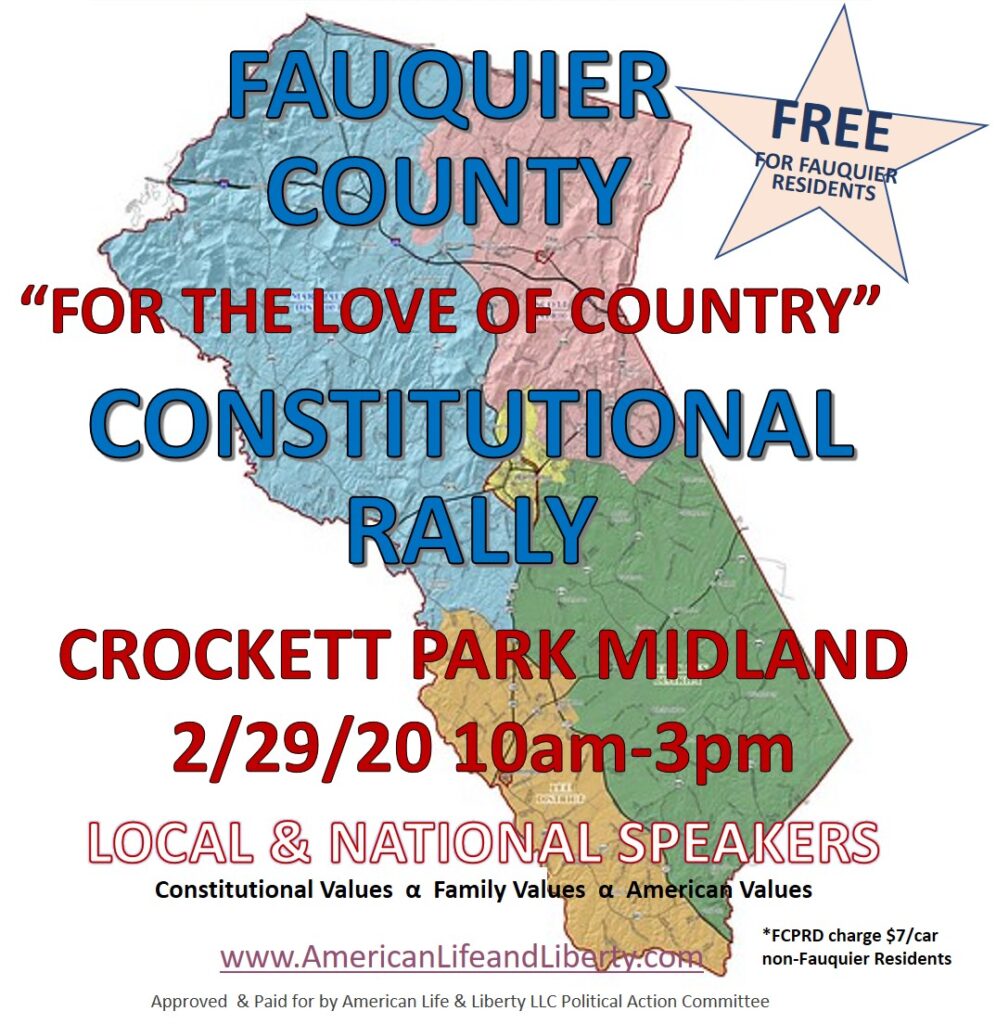 ---
Since the November election, the new legislators have introduced bills that many consider Radical and Outrageous. Across the State, large groups of people have gathered to protest and speak out against this legislation, ask their representatives to kill the bills, and protect our Fine State. We had over 2,000 turn out for the Board of Supervisors on December 12, 2019 with over 150 speakers, as reported by Fauquier Now.
Due to the overwhelming plea from the citizens, the Board of Supervisor Chris Butler tabled the BOS vote to create a Fauquier 2A Constitutional Resolution that had more TEETH. On December 23, 2019 with a 5 to 0 vote the NEW VERSION passed, as reported by Local Media. The Board of Supervisors, with the support of the Sheriff, Commonwealth Attorney, and their Lobbyist will continue to fight against any law that infringes on the rights of Fauquier citizens.
The Legislative Session (House and Senate) in Richmond is ending on March 7th, when the House & Senate Bills will be forwarded to the Governor to become Laws. Now is the time to come together to hear from our legislature and expert speakers about how these new laws will impact us, the people of Virginia.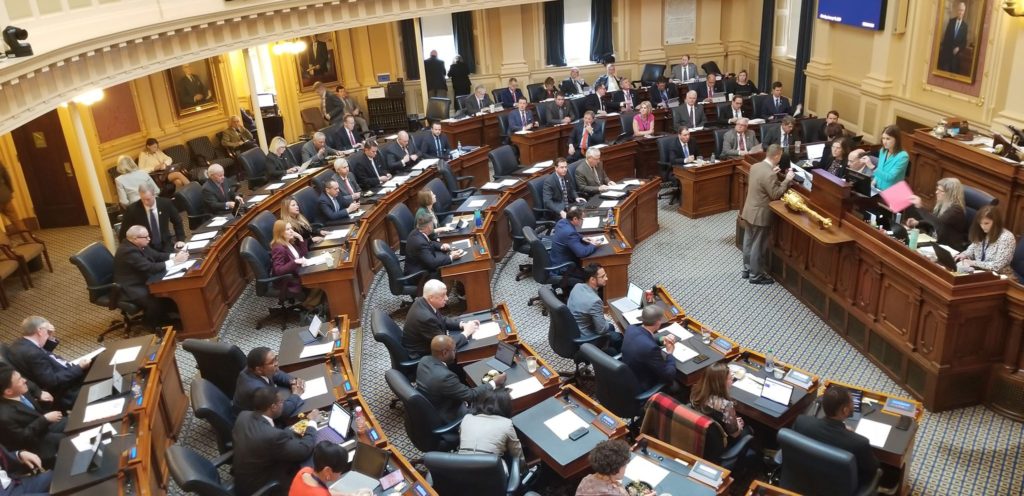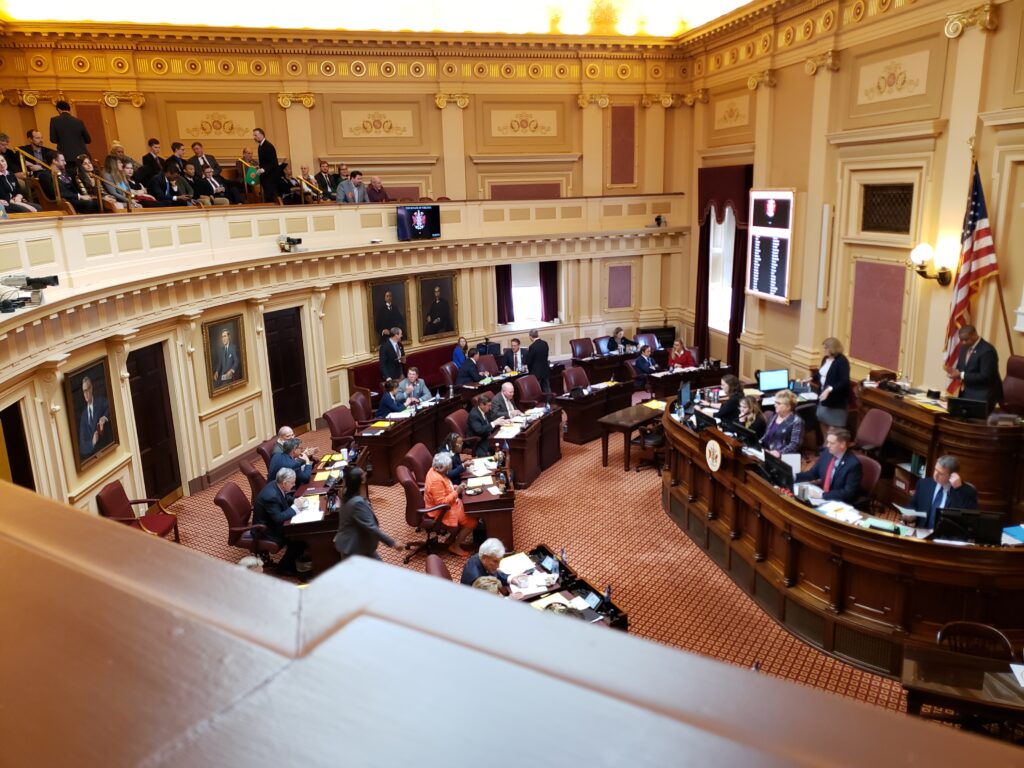 ---
As bills become law, what will happen? If the gun ban happens, will they break down my door to take my guns? (NO!) Will new laws make my taxes go up? What will actually influence or change my daily life?
There are ways to fight against the unconstitutional laws. There are ways to flip our government back into a balance that could mitigate the damage done. There are real issues in our culture. How do we address these issues? This is not about partisan politics. This is about AMERICAN LIFE & LIBERTY.
ALL ARE WELCOME – Join the RALLY on February 29, 2020 with national, state and local speakers from 10am-3pm. Gates open at 9am. The rally will have food, vendors and music. *No hate or violent protesting allowed.
SPEAKERS As of Right Now
US Representative Denver Riggleman
VA Senator Jill Vogel
VA Senator Amanda Chase
Fauquier Board of Supervisor Chris Butler
DJ Jordan, Won up to 76% in Fauquier!
Tim Anderson, 2A Attorney
Paul Coyer, Institute of World Politics
Maj Toure, Black Guns Matter
Kerry Slone, We the Female
Vaughn Neville, The Man Spot
John Crump, Virginia – Gun Owners of American
Erich Pratt, VP Gun Owners of America
Suzanne Sloane, New Laws, Government & Education
John Green, Why Education?
Brandon Bowser, Young Republicans
Rev Jose Andres Ruiz
Rev Dr James Kelly
Pastor Robert Grant
Liz Dickinson, American Majority
Rev Dr Jason Garwood, Fauquier 2A
Patrick Heelen, Culpeper 2A
Will Billerd, Prince William 2A
And more ….
VENDORS, FOOD & MUSIC… Come meet folks who stand with you and our Constitutional protections!
CURRENT SPEAKER TIMES
MAP TO THE EVENT
---
This press release is approved by American Life & Liberty, a new non-connected Political Action Committee dedicated to helping American Citizens have a government that supports their Values and ensure their Life & Liberty.