"FOR THE LOVE OF COUNTRY"
Fauquier Times 2/26/2020 Fauquier Times 2/29/20
COME JOIN US – 2/29/20 CROCKETT PARK, MIDLAND Gates open 9am
---
There are ways to fight against the unconstitutional laws. There are ways to flip our government back into a balance that could mitigate the damage done. There are real issues in our culture. How do we address these issues? This is not about partisan politics. This is about AMERICAN LIFE & LIBERTY.
ALL ARE WELCOME – Join the RALLY on February 29, 2020 with national, state and local speakers from 10am-3pm. Gates open at 9am. The rally will have food, vendors and music. FOR MORE INFO
*No hate or violent protesting allowed.
---
WHAT IS IT ALL ABOUT?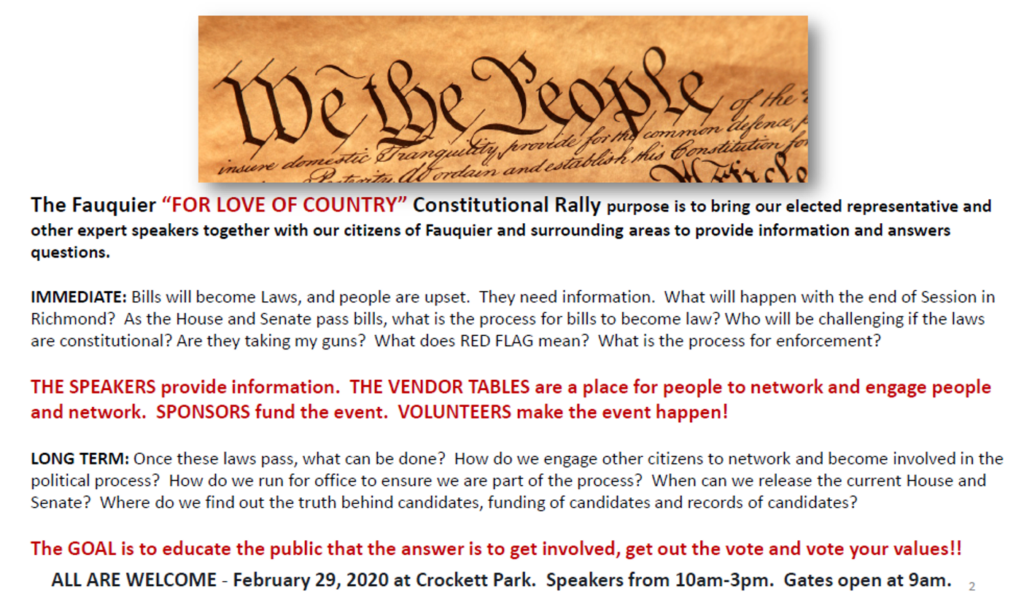 ---
Our Invitation to You,
We are a newly formed Political Action Committee AMERICAN LIFE & LIBERTY LLC, concerned with the proposed bills presented in our legislature for the 2020 Session. We feel that our Constitutional Values, Family Values and American Values are not currently reflected in the new laws being proposed.
Being concerned, we are organizing a nonpartisan Constitutional Rally, the FAUQUIER COUNTY "FOR THE LOVE OF COUNTRY" RALLY to be held Saturday, February 29, 2020 at Crockett Park in Midland, Fauquier County.
It is our hope to engage both our fellow citizens (from all political persuasions), and our legislature to help bridge some of the divide we see in today's culture.
---
SHARE THE FLYER – Send it to your friends to share on Social media!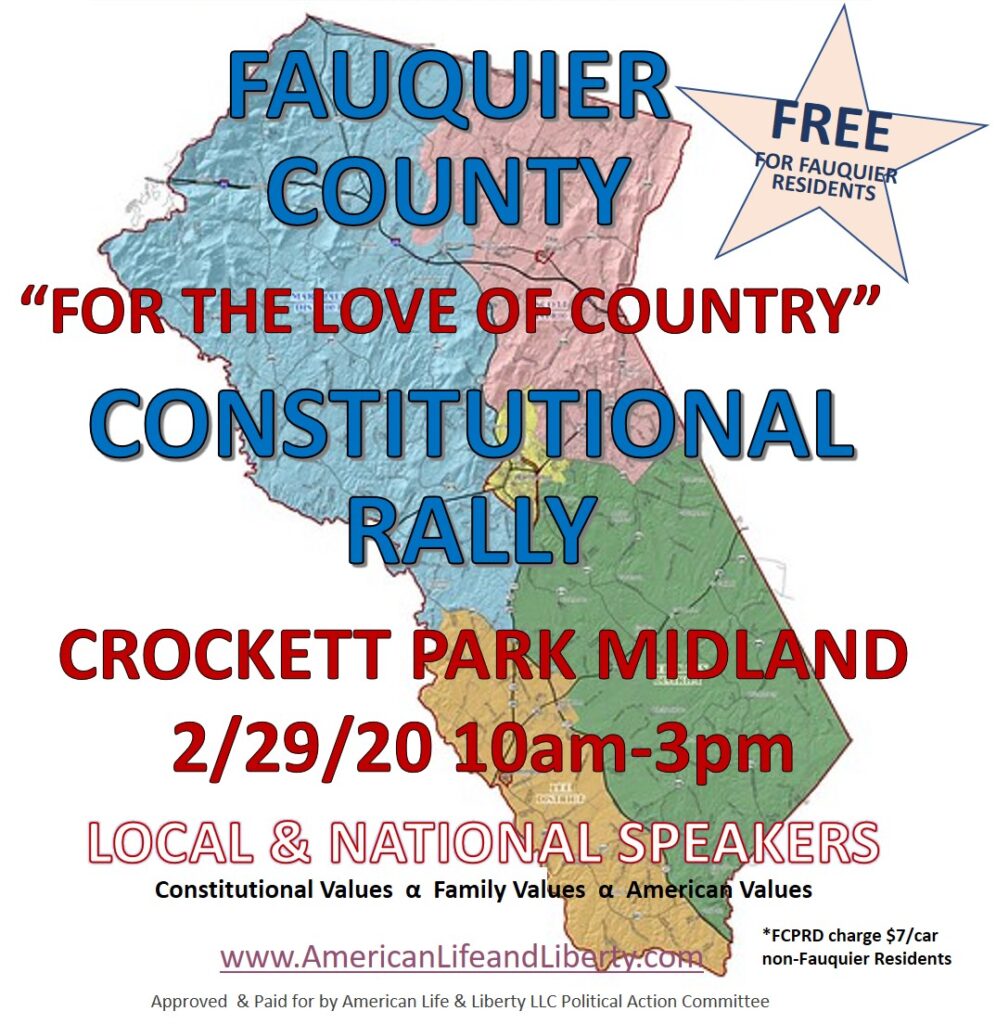 ---
CONFIRMED SPEAKERS (as of now)
US Representative Denver Riggleman
VA Senator Jill Vogel
VA Senator Amanda Chase
Fauquier Board of Supervisor Chris Butler
DJ Jordan, Won up to 76% in Fauquier!
Tim Anderson, 2A Attorney
Paul Coyer, Institute of World Politics
Maj Toure, Black Guns Matter
Kerry Slone, We the Female
Vaughn Neville, The Man Spot
John Crump, Virginia – Gun Owners of American
Erich Pratt, VP Gun Owners of America
Suzanne Sloane, New Laws, Government & Education
John Green, Why Education?
Brandon Bowser, Young Republicans
Rev Jose Andres Ruiz
Rev Dr James Kelly
Pastor Robert Grant
Liz Dickinson, American Majority
Rev Dr Jason Garwood, Fauquier 2A
Patrick Heelen, Culpeper 2A
Bill Billerd, Prince William 2A
And more ….
VENDORS, FOOD & MUSIC… Come meet folks who stand with you and our Constitutional protections!
CURRENT SPEAKER TIMES
MAP TO CROCKETT PARK
---
JOIN OUR EFFORTS
Please consider participating in our upcoming Rally. We feel your attendance, participation, and support would greatly add to our Rally and would help draw more citizens of all walks of life to our event. We are looking for speakers, sponsors, donors, volunteers and vendors across every demographic in our county.
Please Join Us!! Questions? email or call (540) 680-3168
Thank you for considering our invitation to participate.
---
We hope that together, we can spread understanding and grass-roots political involvement.
When the people truly understand the issues, and vote their values, we have a greater impact. We restore balance in our Government that better reflects the values of the people.
If you are interested in being part of this event, please let us know!
In Life & Liberty!
---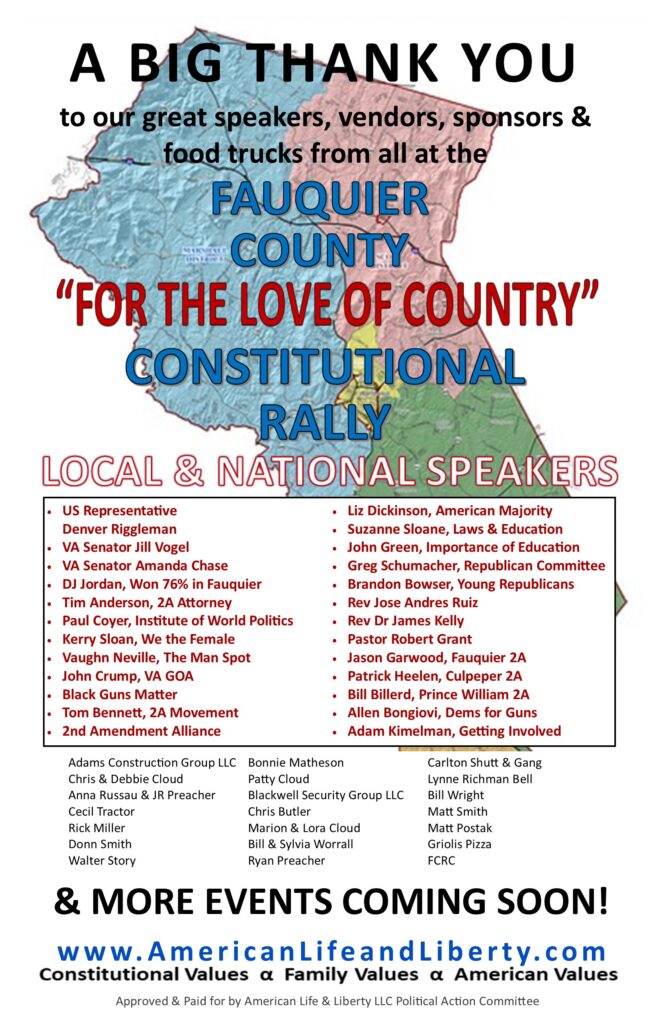 ---
Please note, any hate and/or violence are not allowed at this event, and the authorities will be called if their is a disruption to the peaceful gathering of Americans.
---